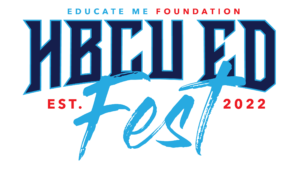 The Educate ME Foundation is excited to start 2022 off with an epic event! On April 19th-21st 2022 we will be hosting our annual HBCU ED FEST!
This three day education festival is for high school students, current college students, and educators. Below is our daily focus for each day:
April 19th, 2022: HBCU Education Conference Day
April 20th, 2022: HBCU College Fair
April 21st, 2022: HBCU Teachers Fair
This event is being held to create an opportunity to expose high school students to HBCUs that are wanting to major in education. Connect current HBCU students majoring in education and HBCU alums that are current educators with securing employment opportunities. Last, but not least we created a space to have attendees be able to network, grow and develop from our dynamic breakout sessions and keynote presentations!
Interested in attending? Register by clicking the one of the links below.
Student Registration Educator Registration School/University Registration